Using modern devices with up-to-date operating systems is a base requirement for businesses to operate securely.  That's why Onward recommends Lenovo and Windows 11 Pro. Keep reading to learn why, or contact us to see how becoming a Managed Services Support Client can relieve your IT headaches.
Enhanced and secure hybrid working experience

The move to hybrid working has created a challenging security environment for businesses. Lenovo devices running Windows 11 Pro empower employees to be productive from anywhere, while protecting their business, its data, and its reputation.
Core security benefits of Lenovo devices running Windows 11 Pro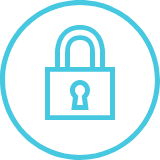 Security out-of-the-box
Lenovo devices with Windows 11 Pro include comprehensive security as standard, with safeguards from the silicon to the cloud. These include passwordless authentication, malicious-software protection and hardware-based root-of-trust.
Protect against evolving threats
Cyberthreats continue to become more sophisticated. Businesses using Lenovo PCs running Windows 11 Pro benefit from a range of protections, including intelligent threat-detection and rapid responses, informed by 43 trillion security signals analyzed daily.
Modern security management
Enable the adoption of modern Zero-Trust security frameworks, supported by a range of tooling to safeguard employees, data and applications.
Managing IT in the modern age
Abrupt workplace shifts have put unexpected stress on IT teams. Adjust with Windows 11–designed for hybrid work–and Onward Managed Services, delivering comprehensive solutions so you can regain focus on strategic imperatives.
Secured-core PCs: Added assurance around your most-sensitive data
For mobile workers, and those handling the most-sensitive data, Secured-core PCs elevate the benefits of Windows 11 security, with additional hardware and software protection resulting in the most secure Windows 11 devices ever.
These safeguards are enabled by default, and work together to shield identities and data, and secure the operating system against attacks on software, hardware, and firmware.